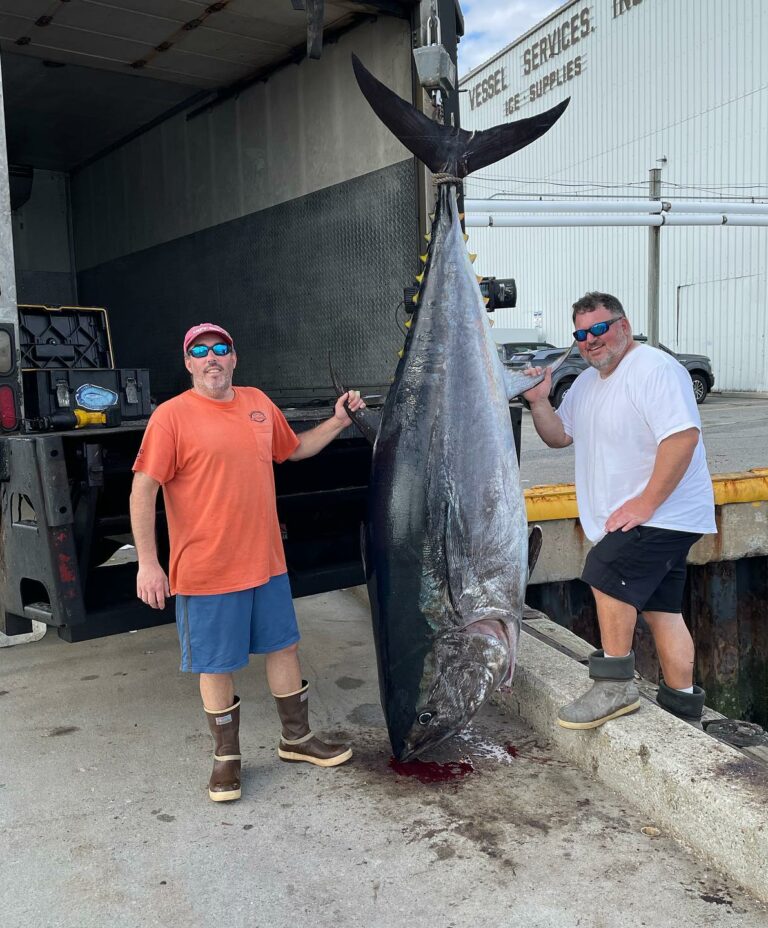 A Challenge for true anglers
Looking to get out in the deep ocean and catch some massive bluefin tuna? During the fall we host tours to do just that. A much longer tour than our other options, we'll be going out around 50 miles from shore to get to where entire schools of tuna hang out. Put your angler skills to the test – bluefin are very hard to catch. It's been cited that it takes on average, two and a half hours to land a single tuna. They are quite smart, and are picky with hook size and bait quality. As such, we advise this trip only to those advanced anglers who are ready to take on a challenge.
While on the hunt for a monster tuna, expect to see and catch some other species such as Cod, Mackerel, Flounder or Squid, among others. We're not afraid to use them as bait for our real target. It's up to you if you'd like to keep anything you catch as long as it's legal size. Throughout the journey you'll also get a look at the Revolutionary War forts throughout Casco Bay, some of the lighthouses in the area, as well as plenty of wildlife, ranging from seals and porpoise, to whales and even sharks.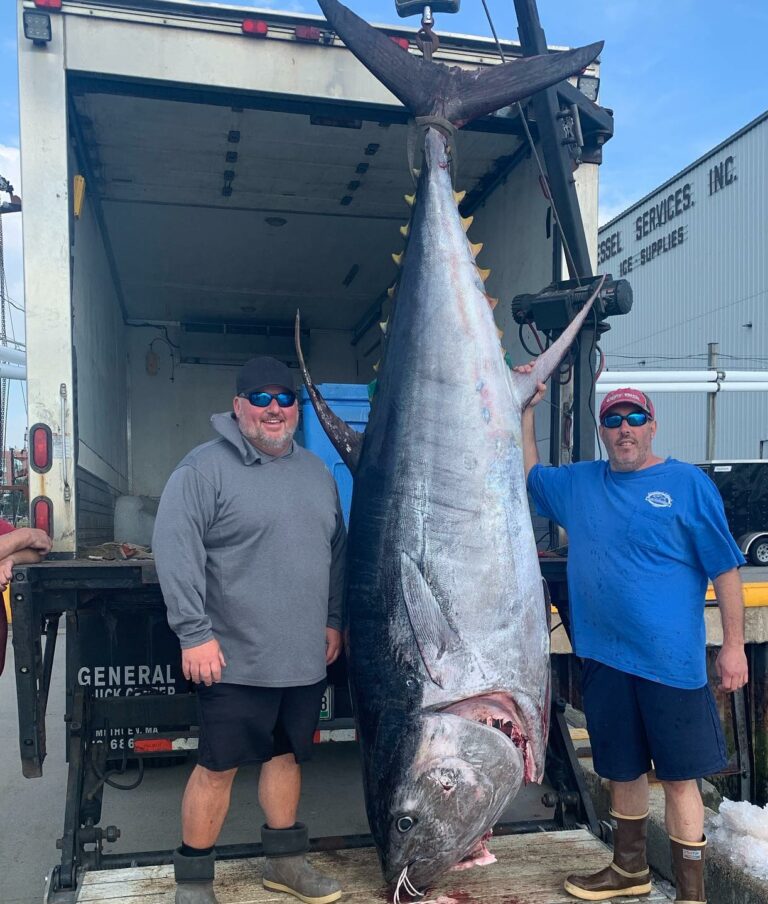 *Bluefin Trips are max of 4 people call for pricing.
We always keep a close eye on the forecast to ensure safety of the trip and if things seem to get too hairy, we can discuss rescheduling. Whether it's their first time or the fiftieth, bring the kids along to enjoy the amazing sport of ocean fishing with this fun, affordable, safe, and surely memorable fishing trip on the Casco Bay!

Great fishing trip with a buddy this morning!! Captain Jamie put us on fish early and we had a blast catching them. Tim was quick to help out the entire time. Highly recommend visiting this fishing tour if you are in the area.

Thanks for making it easy!! On time prepared and very hospitable. Thanks can't wait to see you next time.Kudos captain Jamie and tim!

Brandon Peterson
1693323446
I Highly recommend! Reel Action Charters friendly knowledgeable and put us on the fish. Don't hesitate book now you won't regret it

Captain Jamie and his First Mate, Cooper were top notch! We had a great family fishing trip where all 5 of us, including our 15, 13, and even our 8 yo all pulled in their own fish. Would def recommend! Thanks for the memorable experience!

Leslie Rettig Pcolinsky
1692713749
Second trip with Captain Jamie. First cast and my son caught a big striper. We had a great trip, several more stripers and mackerel. Thank you for an awesome fishing trip!

Jamie is awesome, put us right on stripers, was super encouraging, and put everyone at ease.My nine-year-old son landed a 14 lbs. striper with Jamie cheering him on the whole way. He said it was the best experience of his life!Thank you, Jamie, for a great afternoon on Casco Bay.

Went out on a striper trip the Captain and deck mate were amazing very friendly and knowledgeable. Had a great trip . Communication about weather and conditions prior were awesome . Will definitely be back for shark fishing next year !!

Captain is very good to deal with! Super nice guy!

Great 2hr trip. Jamie put us in places to catch fish. Cooper was on top of landing, casting, and baiting. Kept everyone involved. Great trip, would definitely book another trip with them.

Thank you Jamie and first mate, Cooper, for making our trip amazing. We had a blast fishing with you both.

Captain got us on the fish!!!

Beautiful, it can't get any better then this 😊


Kyle Brouillette
1691335020
Best charter ever the guys are great. Anything you need they are there to help. Good spots to fish give them a try asap

Jamie and Cooper were awesome! They were very personable and worked hard to get us in position to catch fish. Lots of fun!

Highly recommend reel action charters. It was fun catching mackerel and huge striped bass! Captain James was great with our 13 year old. Very nice, clean and comfortable boat. We will be back!

This was an exceptional experience! Jamie was not only a wonderful captain guiding us to catching striper, but was also a wonderful host. We caught great fish and had great conversation. If we're ever back in Portland another trip with Reel Action is at the top of our list!

Had a great time with our family of 4 on a 4 hour trip. Captain Jamie and his mate had everyone catching fish the entire time. It was the highlight of our Maine vacation.

The BEST! Knowledgeable, fun, well prepared, on time, helpful, and..... we caught great fish! Jamie & Cooper were fantastic! Highly recommend a trip with Reel Action!

The four of us had a wonderful trip!!! Captain Jamie and Cooper were so helpful and made sure that we all caught striper. Wonderful morning on the water. They will get you on the fish! 👍


We got a 400lb tuna. Was awesome! Great boat. Great captain.

What a great experience fishing. Family friendly and an overall amazing experience. Must go!

Captain Jamie certainly knows how to find fish! He was so knowledgeable about the tides, and where the fish like to feed. I am sure his expertise helped us catch fish. Cooper, the first mate made it super easy, by baiting the hook and casting for us.We packed a lot in our 2 hour trip. Definitely a repeat activity. But next time 4 hours is a must, the time went by too fast. Thanks for the fun day and great memories!

Captain Jamie was awesome, he knew the hot spots to fish based on the tide, was excited to get us onto the stripers and provided excellent guidance. First mate Cooper was patient, experienced and always in just the right spots! The boat was beautiful, spotless and very comfortable. The cabin even has pillows! 😍 100% recommend you book with Reel Action for an amazing day of fishing.
Next Reviews